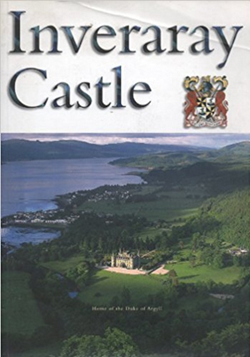 Published by the Heritage House Group in 2002, this is a 48 page paperback guide to the famous Scottish Inverarary Castle. It's focused on the history of the castle rather than current activities, but does include some newer pictures as well and some information about the 13th Duke of Argyll and his family.
Examples of aspects of the castle featured in this guide are the Armoury Hall, the Clan Room, the China Turret and selected parts of the extensive garden. Floor-plans of the castle are included, as well as a family tree of The Campbell Knights of Lochow.
Publisher: Heritage House Group Ltd (24 July 2002)
Authors: Robert Innes-Smith and George Hughes-Hartman
Language: English
ISBN-10: 0851013600
ISBN-13: 978-0851013602
Product Dimensions: 28.8 x 20.4 x 0.6 cm
About Inveraray Castle
Since the later half of the 1700s, Inveraray Castle has been the seat of the Dukes of Argyll, chiefs of Clan Campbell. Its name in Scotish Gaelic is Caisteal Inbhir Aora.
The castle is located near the village Inveraray in Argyll, on the shore of Loch Fyne. Work on the castle commenced in 1743 and the foundation stone was laid in 1746. In the 1770s, the village of Inveraray was moved to create a more secluded setting around the castle. The castle is surrounded by a 16-acre garden and the total size of the estate is 60,000 acres. The estate is involved in commercial forestry, wind and hydro power generation, tenated farming, and deer hunting. The castle is home to a large weapons collection featuring over 1,300 pikers, swords, muskets and other historical weapons.
At the time of writing, the castle is inhabited by the 13th Duke of Argyll and his family, but is also open to visitors. The Duke and his family live in a private part of the castle, occupying two floors set between two of the towers. This section is not open to visitors.
In September each year, the Duchess of Argyll organizes the Best of the West festival at the castle.
If you have watched the 2012 Christmas episode of the popular British period drama Downton Abbey, you have seen parts of this castle because it stood in for the fictional Duneagle Castle when the episode was filmed.
Style
Examples of architects involved in the design of Inveraray Castle are William Adam and Roger Morris. The castle was built in Gothic Revival style, but the interior includes several neoclassical rooms created by Rober Mylne for the 5th Duke of Argyll.
The third floor with dormer windows and steep conical roofs was not there when the castle was first built; it is a later addition.