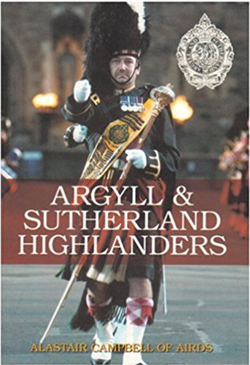 This book on military history, written by Alastair Campbell of Airds, is focused on the Argyll and Sutherland Highlanders (Princess Louise's), a line infantry regiment of the British Army formed in 1881.
Born in 1937, the author is a former Scottish officer of arms, appointed Unicorn Pursuivant of Arms in Ordinary in 1987 and Islay Herald Extraordinary in 2008. He is a active member of the Highland Society of London and has written several books on the history of Clan Campbell.
About the Argyll and Southerland Highlanders
In 1794, the Duke of Argyll deputed his kinsman Campbell of Lochnell to raise a Regiment of Argyllshire Highlanders. In 1881, the Argyllshire Highlanders (91st Regiment of Foot) was amalgamated with the Southerland Highlanders (93rd Regiment of Foot) to form the Princess Louise's Southerland and Argyll Highlanders. The 93rd Regiment of Foot had been raised by Major General William Wemyss in 1800 and formed the original Thin Red Line at Balaklava in the Crimean War.
In 1882, the name was changed from Princess Louise's Southerland and Argyll Highlanders to Princess Louise's Argyll and Southerland Highlanders. Back then, the regiment's area consisted of Argyll and Bute, Clackmannan, Dumbarton, Renfrew, and Stirlingshire.
The Second Boer War, the First World War, the Second World War, the Korean War, and the Iraq War are all examples of wars in which the Argyll and Southerland Highlanders served. The regiment also saw service in Mandatory Palestine 1945-1948. In the early 1970s, detachments from the regiment regularly served in Northern Ireland at the height of the Troubles.
In 2006, the Argyll and Southerland Highlanders were amalgamated with the Royal Scots, the King's Own Scottish Borderers, the Royal Highland Fusiliers (Princess Margaret's Own Glasgow and Ayrshire Regiment), the Black Watch (Royal Highland Regiment) and the Highlanders (Seaforth, Gordons and Camerons) to form the Royal Regiment of Scotland.
Short information about the book
Paperback: 128 pages
Publisher: The History Press (1 Dec. 2005)
Language: English
Author: Alastair Campbell of Airds
ISBN-10: 0752435388
ISBN-13: 978-0752435381
Product Dimensions: 16.5 x 1 x 23.5 cm