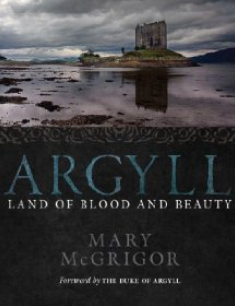 "Argyll: Land of Blood and Beauty" tells the dramatic history of Argyll and the Inner Hebrides from the ancient kingdom of Dal Riata through the arrival of Christianity, the Lordship of the Isles, the sometimes bloody clashes of the clans, the Clearance movement and the mass migration that followed. Among other things, the book gives us a deeper understanding of the Columba, the missionary from Ireland that after his death was declared the patron saint of both Scotland and Ireland.
The book isn't just focused on great Scottish manor houses, high-rising Cathedrals and bloody battles – there is also a lot of info to find here regarding the ordinary day-to-day living carried out by the Argyll residents throughout the centuries. We get to learn a lot about historically important economic activities in Argyll, including farming, forestry, fishing and whisky distilling.
In addition to bringing the stories of history of the region to life, Mary McGrigor does a great job highlighting the physical remains of Argyll's past dotted all over this ancient landscape and the book is an excellent starting point for anyone who wants to plan a series of historically inspired excursions throughout Argyll.
"Argyll: Land of Blood and Beauty" is richly illustrated with specially commissioned photography.
Paperback: 112 pages
Publisher: Birlinn Ltd (9 July 2013)
Author: Mary McGrigor
Language: English
ISBN-10: 1780270712
ISBN-13: 978-1780270715
Product Dimensions: 17.8 x 1 x 24.6 cm
About the Author
Mary McGrigor lives near Port Sonachan in Argyll and has written a number of books inspired by her surroundings, including "Anna:Countess of the Covenant" and "The Tsar's Doctor". She grew up in a 15th-century Scottish castle and married fellow Scotsman Sir Charles McGrigor. Upon his retirement, the family took up hill farming in Argyll.
Saint Columba – Apostle to the Picts
Saint Columba (7 December 521 – 9 June 597) was an important Christian missionary in what is today Scotland. Born in Ireland, Columba moved to Iona where he founded an abbey that became a highly influential religious and political institution in the region for centuries. Columba used the abbey as a base for spreading Christianity among the northern Pictish kingdoms. He was highly regarded by both the Gaels of Dál Riata and the Picts.
Saint Columba – Apostle to the Picts

Born
7 December 521
Gartan, County Donegal, Ireland
Died
9 June 597 (aged 75)
Iona, Scotland
Venerated in
Orthodox Church
Roman Catholic Church
Lutheran Church
Anglican Communion
Presbyterian Church
Major shrine
Iona, Scotland
Feast
9 June
Attributes
Monk's robes, Celtic tonsure and crosier
Patronage
Ireland, Scotland, Derry (the city), floods, bookbinders, poets