The thesaurus will tell us that a curiosity is an oddity, wonder, sight, phenomenon, spectacle, freak, marvel, novelty, or rarity  – and Argyll is certainly rich in those.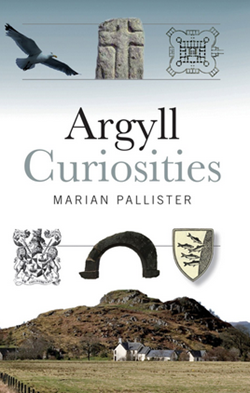 In this 180 page paperback, Marian Pallister takes us on a journey through Argyll and its islands, showing us a wide range of curiosities pertaining to geology, geography, history, folklore and more. Many of her destinations are such that aren't featured heavily in standard Argyll guide books and "Argyll Curiosities" is likely to teach you something you didn't know before even if you're an avid fan of the Argyll region.
Paperback: 180 pages
Publisher: Birlinn Ltd; illustrated edition edition (1 Nov. 2007)
Author: Marian Pallister
Language: English
ISBN-10: 1841585319
ISBN-13: 978-1841585314
Product Dimensions: 14 x 1.3 x 21.6 cm
About the author
Marian Pallister has written several books about Argyll and Scottish history, including "Lost Argyll" (2016), "Cruachan: The Hollow Mountain" (2015), "Dalriada – a twentieth century kingdom" (2010), "Argyll Curiosities" (2007) and "Villages of Southern Argyll" (2004). She wrote "Yesterday Was Summer: The Marion Campbell Story" (2007) together with David Adams McGilp.
Her job as a journalist has taken her to many different parts of the globe and she has worked a lot in Africa, India and the Balkans. She lives in Kilmichael Glassary in Argyll.
Pallister has won awards for feature-writing and has been Scottish Journalist of the Year.
Belnahua – one of the many curiosities of Argyll
Belnahua is one of the Slate Islands in the Firth of Lorn in Scotland. These islands was heavily qaurried for Dalradian slate from the 1600s and onwards. When the Belnahua population was at its largest, there was almost 200 people living on Belnahua and a jetty was present to the east of the island.
Belnahua has been uninhabited since World War I, but many abandoned cottages once used by slate workers are still here. The deep holes these workers created as they removed Dalradian slate are also still here, of course, and has filled with water.
Since the island has been uninhabited for such a long time, it has become and important haven for local wildlife. Tourists occasionally visit the island and so does local fishers.
Balnahua, located west of Argyll and east of the Garvellachs, is owned by the Carlin family.
Belnahua

Coordinates
56.25°N 5.69°W
Island group
Slate Islands
Highest elevation
22 metres (72 ft)
Sovereign state
United Kingdom
Country
Scotland
Council area
Argyll and Bute